Police Officers
A Career as a Hospital Police Officer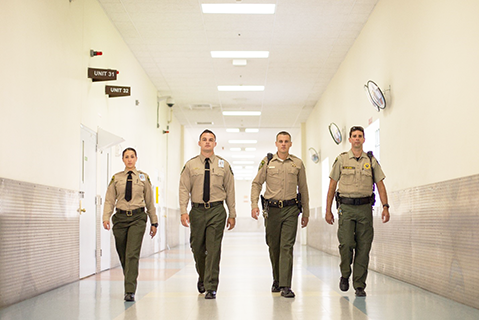 The Department of State Hospitals includes a 24-hour law enforcement agency called the Office of Protective Services which oversees law enforcement at each of our five free-standing hospitals. Each of our hospitals are staffed with police officers, investigators, and communications operators.
Hospital Police Officers
The Office of Protective Services is seeking individuals who will not only protect our staff, but will also serve our patients with compassion for their mental illnesses. Our Hospital Police Officers (HPOs) are also called upon to assist the public in the communities that neighbor our hospital grounds.
Criteria
Before you can apply for a law enforcement job you have to meet the following criteria:
Be 21 years of age by date of appointment.
Have no felonies or other disqualifying misdemeanor convictions and meet the Office of Protective Services Background Investigations Standards.
Be a U.S. citizen or eligible for application for U.S. citizenship.
Possess a valid California driver's license by appointment to position.
Completion of high school or equivalent to the completion of the 12th grade.
Pre-Examination Application Process
A standard State Application (Std. 678) must be submitted for acceptance to the next available HPO written examination. A Criminal Record Supplemental Questionnaire should be included with your application by mail to the desired DSH facility you wish to take the exam at. (You will be required to submit a completed Criminal Record Supplemental Questionnaire at the time of the exam.) Please see the Hospital Police Officer Bulletin for details.
*On the Std. 678 Form, under Examination(s) Or Job Title(s) For Which You Are Applying, write Hospital Police Officer Exam*
Applicants for the position of Hospital Police Officer (HPO) are given a general law enforcement written examination, which is offered four times a year.
The remaining exams for 2018 are:
March 3, 2018 - Final Filing Date - Cut off January 26, 2018
June 9, 2018 - Final Filing Date - Cut off April 27, 2018
September 8, 2018 - Final Filing Date - Cut off August 3, 2018
December 1, 2018 - Final Filing Date - Cut off October 26, 2018
Applicants whom pass the written examination (70% or better) are ranked by score. Veterans who pass the examination and have filed a Veterans' Preference Form (will also be distributed at the time of the exam) with CalHR are placed at top of list.
*Once you receive your score, submit another standard State Application (Std. 678) to the hospitals you wish to apply at*
The first three ranks (highest scores) are scheduled for a Background Intake Orientation first. Successful applicants are subject to an extensive Peace Officer background investigation, including a medical and psychological screening.
Background Investigation
The Department of State Hospitals, Office of Protective Services (OPS) has the responsibility to hire only qualified individuals for positions within the OPS. In order to accomplish this, a thorough investigation into the background of all applicants is necessary. The main objective is to conduct a thorough, comprehensive, and legal applicant investigation, conducted with due consideration for the rights of the candidate and in compliance with the governing law and rules. The investigative dimensions and OPS Standard set forth in the OPS Background Investigation Manual ensure that only qualified individuals will be considered for a position of public trust.
A Career with DSH OPS
After passing the complete background investigation, including the psychological and medical portion which a Physical Abilities Test is conducted, you will enjoy many rewarding benefits to working for the State of California in public safety. We offer specialized mental health training for our officers in order for personnel to be well equipped for the duties of working in our forensic treatment facilities. As a full time, paid State employee our Officers train at the DSH Police Academy, located in Atascadero, CA. As a Public Safety employee you will enjoy State Safety Health and Retirement benefits for you and your family. Our Department is a member of the California Peace Officers Association because we are dedicated to the professionalism of law enforcement.
Please see Police Officer Brochure:

More information about the Office of Protective Services
Contact the Office of Protective Services Hiring Coordinator at (916) 654-6865.
Featured Links
Contact
Human Resources Branch
1600 Ninth Street, Rm. 440
Sacramento, CA 95814
(916) 654-2351