Meet the Chief
Meet the Chief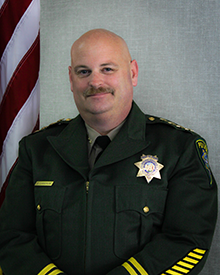 DAVID W. LANDRUM - CHIEF OF DSH LAW ENFORCEMENT
5 PILLARS OF A SUCCESSFUL ORGANIZATION

Recruit, Hire, and Retain Good People
Consistent Statewide Hiring
Consistent Disciplinary and Accountability Processes
Consistent Statewide Policy
Supervision and Management Development
Personal
David W. Landrum began his tenure as Chief of Police at Atascadero State Hospital in July 2010. Chief Landrum was raised on the California Central Coast, graduating from Atascadero High School. Following high school, Chief Landrum joined the United States Army as a military police officer stationed in both Alabama and Alaska. After his discharge from the United States Army, Chief Landrum returned to the California Central Coast. He began his career with the Department of State Hospitals as a police officer in October 1990.
Since 2015 Chief Landrum has had oversight of the Office of Protective Services at DSH-Headquarters. He is focused on improving Law Enforcement Services within the Department of State Hospitals.
Personal Statement
"The Department has many fine men and women in uniform, serving the citizens of California, and ensuring the safety of the patients, staff, and visitors to our facilities. My goal is to ensure that the quality law enforcement services we provide continue, and that the officers have the tools, resources, and training they need. This while remaining dedicated to providing the highest level of safety and security through competent, professional, law enforcement services while facilitating compassionate treatment of patients that are mentally ill."
About Us
Related Items
Quarterly Written Exams for DSH Police Officers:
March 11, 2017

– Final Filing Date – Cut Off January 17, 2017

June 17, 2017

– Final Filing Date – Cut Off April 21, 2017

September 16, 2017

– Final Filing Date – Cut Off July 21, 2017

December 9, 2017

– Final Filing Date – Cut Off October 13, 2017