Police Academy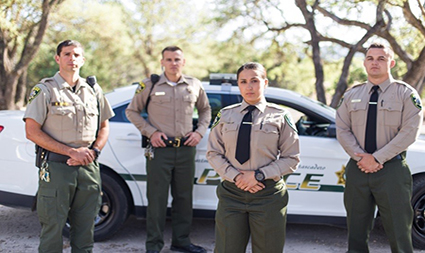 Academy Class 029 - Begins on October 1, 2018
Training Program Details:
The California Department of State Hospitals is the largest forensic mental health hospital system in the nation and trains new employees to the uniqueness of our specialized facilities.
Upon hire as a Police Officer with Department of State Hospitals (DSH), successful candidates will receive approximately fifteen weeks of training at the Department of State Hospitals Police Academy (DSHPA) located in Atascadero, CA adjacent to Atascadero State Hospital.
Full DSH Police Officer salary will be provided to all DSH Police Officer during the training period at the Police Academy. Housing and per diem (CA State rate for expenses such as food and incidentals) will be provided to all DSH Police Officers hired at one of the Hospitals at least 51 miles away from Atascadero, CA.
The academy requirements include successful completion of 548 hours in multiple disciplines pertaining specifically to DSH Police Officer job specifications and with a passing standard of 76% or higher. The DSH Police Academy is endorsed by Allan Hancock College for college credit.
Department of State Hospitals Police Officers receive an additional ten weeks (400 hours) of on-the-job hospital specific training with a Field Training Officer at their designated hospital facility. As a Police Officer working with DSH, you'll enjoy a rewarding career in law enforcement while working alongside a dedicated and enthusiastic team of people.
Contact Information:
For further information about the DSH Police Academy, contact the Office of Protective Services at: (916) 562-2521.
Caring Today for a Safe and Healthy Tomorrow
About Us
Related Items
Quarterly Written Exams for DSH Police Officers:
March 3, 2018

– Final Filing Date – Cut Off January 26, 2018

June 9, 2018

– Final Filing Date – Cut Off April 27, 2018

September 8, 2018

– Final Filing Date – Cut Off August 3, 2018

December 1, 2018

– Final Filing Date – Cut Off October 26, 2018