Meet the Chief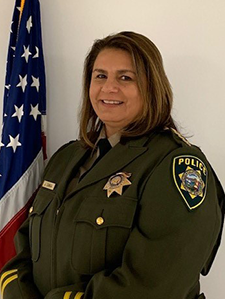 JANNETTE P. ZUNIGA - DSH POLICE CHIEF ATASCADERO
Personal
Jannette P. Zuniga began her police career in April of 2002 with the Department of Police Services (DPS) at the Department of State Hospitals - Atascadero (DSH-A), following a twelve-year career in Psychiatric Technology before being promoted to Sergeant in 2007. Chief Zuniga served in several capacities such as: Patrol Officer, Field Training Officer, Field Training Coordinator, Classifications Officer, Photo Lab Officer, SORT Team Member, Honor Guard, and was also certified as a Communications Operator. Chief Zuniga has instructed for the OPS Police Academy since 2004.
As a Sergeant with the department, she continued to instruct in the OPS Police Academy and coordinated the Field Training Program. Chief Zuniga worked as the Watch Commander and Field Supervisor on all shifts. She volunteered for local law enforcement community functions such as Cops and Kids Day and Hot August Nights.
In October 2010, she was promoted to Lieutenant where she performed the functions of each division in DPS along with the preparation and opening of the Enhanced Treatment Unit (ETU) in 2011. Chief Zuniga's Lieutenant experience encompassed leading and overseeing the Department's Transportation Unit, Package Center, K9 Unit, Training Unit, Criminal Investigations Unit, and serving as the departments Hiring Coordinator. She has instructed in the department's Continuous Professional Training Program (CPT) and has attended numerous training courses. Chief Zuniga volunteered for local community events including; Tip a Cop and the Special Olympics BBQ. She has been an integral part of multiple high-profile cases at DSH-A including the 2014 homicide of a patient.
Chief Zuniga obtained her Associate of Arts Degree from Cuesta College in 2007 and was recognized with a DSH-A Superior Achievement Award in 2012 for the implementation of the DPS Report Management System (RMS). On November 13, 2018, Chief Zuniga was promoted as the Chief of Protective Services and Security for DSH-A. Chief Zuniga is married and has four adult children. In her spare time, she enjoys spending time with family and friends, as well as outdoor activities.
Message from the DSH Police Chief - Atascadero State Hospital
It has been my aspiration to be the Chief of Protective Services and Security at DSH-A. My number one goal is to maintain excellent standards of leadership and professionalism by leading by example. I believe in a team philosophy to maintain these goals and will strive to achieve the highest level of ethics and professionalism in our department. By working together with other departments, we can build the bridges between the challenges of the past and opportunities for the future.