Law Enforcement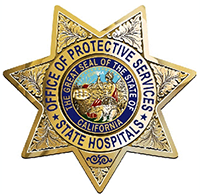 The Office of Protective Services (OPS) is a full service unique law enforcement agency which is dedicated to providing the highest level of safety and security to patients, staff and the community through competent, professional law enforcement services; while facilitating compassionate treatment of patients that are mentally ill. In order to achieve this, OPS is committed to hiring candidates that fit within the team culture, the mission, and the daily work environment of the organization. Our personnel are selected for their honesty, character, integrity and leadership. The Office of Protective Services is a POST participating agency (Investigators) that is committed to having personnel that are trained in the latest best practices. The objective of the OPS is to provide ongoing training, supervision, and guidance to assist law enforcement personnel and develop their knowledge, skills and abilities to the highest levels possible.
The Department of State Hospitals' (DSH) police officers provide safety, service, and security to patients, employees and the public in and around each hospital. There are approximately 700 DSH Police Officers, 30 Communications Operators (Dispatchers) and 40 Investigators assigned to five different hospitals (Atascadero, Coalinga, Metropolitan/LA, Napa, and Patton) in California.
In addition to police responsibilities and investigations, law enforcement personnel work closely with clinical staff to ensure the safe treatment of the more than 6,300 patients assigned to the facilities and the safety of the more than 10,000 DSH employees.
Member of: