Meet the Chief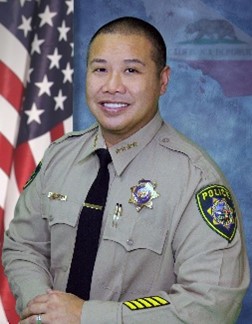 DONALD SALVADOR - DSH POLICE CHIEF METROPOLITAN
Personal
Chief Salvador started his law enforcement career in 2002 with the United States Department of Defense as a Federal Police Officer. In 2005, he became a Correctional Officer for the California Department of Corrections and Rehabilitation. Chief Salvador had the opportunity to work at three different prisons throughout the state of California. During his time with DSH - Metropolitan, Chief Salvador worked in many different assignments, including Field Training, Emergency Response Team Commander, Detective Sergeant, K9 Lieutenant, and now the Chief of Police. Chief Salvador has a Bachelor's degree in Criminal Justice and a Master's Degree in Administration of Justice. In 2021, Chief Salvador attended Sacramento State University where he successfully completed the Leadership for the Government Manager Program. Chief Salvador is a part time Criminal Justice Instructor at a private college.
Message from the DSH Police Chief - Metropolitan State Hospital
I am privileged to serve as the Chief of Police for such a great department. DSH-Metropolitan police officers, dispatchers, investigators, and support staff are the reason why this department is so successful. Promoting hard work, ethics, professionalism, and building a partnership with other departments and organizations are my top priorities. I look forward to watching the growth of MSH-OPS and participating alongside the many exemplary employees.